In an interview with Town & Country, jeweler Bliss Lau talks about her adjustments during the pandemic as well as ReNew, her latest creative venture.
When asked how her creative process changed during the pandemic, Lau said, "The how of designing has stepped into the spotlight, because the why is something I already know so deeply. Why do I make jewelry? Because jewelry is one of the most personal expressions of our identity, connecting us to our lived experiences, sense of belonging, and to our family. The past year has reinforced my belief that each design decision—no matter how small—makes an impact. Growing up in Hawaii taught me to respect the ocean and the land, so, during lockdown, I gave myself a design challenge. With a no-waste mindset, I asked myself to 'shop my closet' and design a collection using the excess metals and stones in my studio. What transpired is a series of limited edition and one-of-a-kind pieces designed in connection to my past like the Levitate Earring, but brighter and more colorful. Pieces that are joyful and light. They are available exclusively on our website.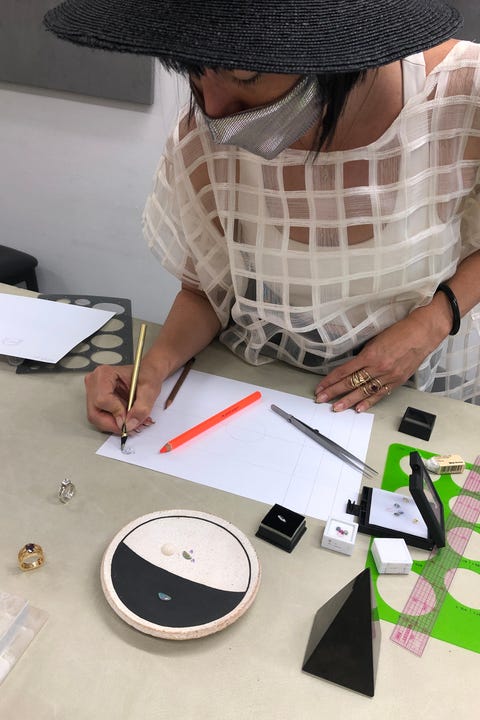 "Working with items preexisting, or post-consumer is one method I follow in our efforts to design consciously, but supporting miners and livelihoods is also a focus of our future designs. This requires a much more complex practice, involving supply chain transparency and an important review process of vetting our suppliers. I asked myself what I could do to directly support these communities beyond purchasing from them. We have donated to projects like the Moyo Gem Initiative, which offers a direct mine-to-market opportunity to support healthy sustainable businesses for women miners."
"I received a lot of requests for remaking existing jewelry into something new," said Lau when asked about her most common requests for commissions. "People were home, reconnecting with their objects, and this inspired many to initiate a change. I had been contemplating launching a program focused solely on reworking pieces of the past to connect them to our current and future selves. I quickly realized this was something much needed by our community. We launched ReNew early this year, where we transform a piece, stone, or material you already own into a new design from our collection. My recent creations are about protection, joy, ancestry, and leading with kindness."
Information originally sourced from Town & Country.