In these trying times, the jewelry industry is seeing more collaborative efforts between brands to bring things forward. One such collaboration is the one between Kendra Scott and premier class jewelry provider and digital retailer Balfour. The pair have partnered to launch a new collection of class jewelry including rings and necklaces, customizable for each student. 
According to a statement given by Scott Blevins, Senior Vice President at Balfour, "Balfour is focused on reinventing tradition, and this partnership accomplishes exactly that. The Kendra Scott collection combines personalization with designer fashion in a way never before seen in the class jewelry market."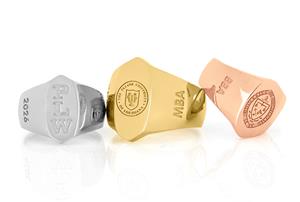 There will be eight brand new ring styles as well as three pendant necklaces. Choices between 18 stone colors and 13 metal types allow students to have their best custom fit with each piece they order. 
"It is an honor to launch Kendra Scott's first design collaboration with such a respected brand name as Balfour. By pairing Balfour's commitment to tradition with our take on trend and customization, I believe this collection offers seniors a fresh, exciting way to celebrate when they need it most," said Kendra Scott, Founder, and CEO.
More than 500 colleges and universities (more to be listed) will license The Kendra Scott Collection by Balfour. One can shop for the new pieces at balfour.com.
ABOUT BALFOUR
For more than a century, Balfour®, a division of AAC-Iconic Group®, has celebrated the most meaningful moments in students' lives with products like class rings, yearbooks, letter jackets, graduation regalia and commencement photography. Balfour has become the leader in officially licensed collegiate jewelry through innovative partnerships with national brands like Kendra Scott, Liz James Designs, Swarovski Gemstones, and more. Balfour reaches students across the country and abroad through a variety of sales channels, including on-school representatives, a robust mobile platform and a new eCommerce destination site. Balfour's focus on providing high schools, colleges and universities with an unparalleled product and service, matched with best-in-class digital marketing, has positioned the brands as the fastest growing class jewelry provider. Balfour is proud to give back to the community through THRIVE, its school and student enrichment program aimed at positively affecting campus culture. For more information, visit www.balfour.com.
ABOUT KENDRA SCOTT
Kendra Scott is a leading fashion accessories brand inspired by the personal experiences, travel, and sense of community of its CEO and designer, Kendra Scott. With over 2,000 employees, Kendra Scott has over 100 standalone stores across the US and is sold in premiere retailers including Neiman Marcus, Nordstrom, Bloomingdale's, and 600 specialty boutiques worldwide and boasts a thriving web business. Kendra Scott is best known for its kaleidoscope of fashion jewelry accessories as well as the customizable Color Bar™ experience, and in recent years has expanded into the categories of fine jewelry, sterling silver, home décor, and beauty. As the brand continues to grow, the company remains true to its founding philosophy of "Family, Fashion, Philanthropy" and since 2010, the company has given back over $30 million to local, national, and international causes.
Information originally sourced from Stockhouse.