Direct-to-consumer brand, Mejuri has just recently unleashed its Menagerie collection, providing wearers with delicate pieces of a bold variety. The jewelry company is often cited whenever one is in need of fine pieces at affordable prices. The latest of its endeavors combine the relaxed pricing with the individuality of each adventurous design. Mejuri's oft prized Zodiac collection, as well as their timeless classic rings and hoops, can make jewelry aficionados want to reach for more.
The recent release of the "Menagerie" collection is a take on ancient and sacred symbols, each with their own meaning. In fact, there are three primary animals that denote a unique feature. The fish is meant to enhance creativity while the scarab and snake symbolize protection and rebirth, respectively.
Creative Director of Mejuri, Justine Lançon described the newest collection in a press release, saying, "We're always about classics with a twist, taking iconic narratives in fine jewelry and redefining them in new and exciting ways that fit our vision of styling. The snake, scarab, and fish are just that: quintessential symbols that have been featured into fine jewelry time and time again. We like them because they're fun, quirky, and a little mysterious — which says a lot about the women wearing them."
The "Menagerie" collection includes three necklaces, and two 14-karat yellow-gold pieces. The Fish Necklace goes for $285 on the brand's website while the Scarab Necklace sells for $300. However, there are more affordable pieces for customers looking to spend less than $100. One such piece is the gold vermeil Scarab pendant for a reasonable sum of $95.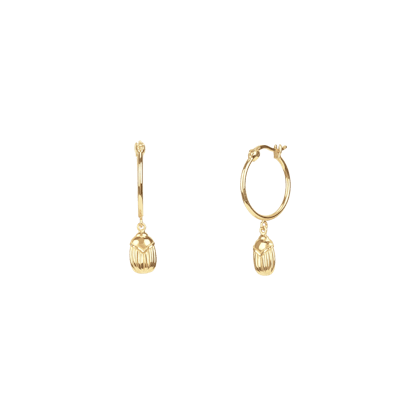 There are options for shoppers that aren't feeling like a necklace is their best pick. The "Menagerie" collection includes a pair of earrings. The Scarab earring set has a dense layer of 18-karat gold layered on top of sterling silver and only costs $65. The collection also has a 14-karat yellow-gold Snake ring that falls into a bit of a pricier range but is all the more worth it with such an intricate look that will surely garner attention. The Snake ring costs $280.
Information originally sourced from The Zoe Report.